Kilbuck Blackened Feathers out on Spotify & Apple Music
29 Jul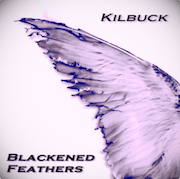 Kilbuck – Blackened Feathers
"I wanted to thank you specifically, both for the obvious – your mixing, mastering and your remix – but also for helping me find a direction and identity in this endeavor. [My daughter] may have been the inspiration to make the song, but you helped sculpt it into reality, and make my childhood dream, part 2, real." – Kilbuck
The Danish electronic music artist Kilbuck has released the first single under his real name, I am credited for producing, mixing, remixing and mastering the original track.
In addition to this, I have also delivered a psytrance remix as Psycophant.
1. Blackened Feathers
2. Blackened Feathers (Psycophant Remix)
Kilbuck has a discography as remixer under various obscure aliases the past few years, often treading into unusual genres of the darker kind. This is the first time he let his inner voice come out, and the result is a modern future pop take with a nod towards New Order if you ask me.
We have collaborated on numerous records already, and first got to know each other through the production of the late KeX3 remix projects.
Enjoy!
Link to Kilbuck Blackened Feathers on Spotify
Link to Kilbuck Blackened Feathers on Apple Music