Comeback of the Year 2010
29 Jan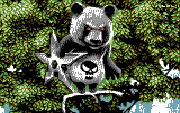 It's all About the Panda
"And ofcourse having Danko back in the c64-scene is definitely the comeback of the year for me, you rock!" – Axis/Oxyron

Had someone asked me a year ago about making music on the good old Commodore 64 8-bit computer again, I would have responded that it will never happen. It seems I did not know what I was talking about (this happens a lot).
Peer pressure at work led to one thing and the other, resulting in me composing a SID track for the first time in… I don't even remember. It was featured in a C64 demo by the almighty and legendary hacker group Fairlight, called "We Are New".
I used an undocumented version of Jens-Christian Huus' New Player and Editor, running on the VICE C64 emulator on PC. Since little did match the old documentation, I had to guess and enter parameters until got a sound. Any kind of sound. This is why I decided to keep it simple, and old school. Old school is always good.
I can promise you one thing, Axis. I will produce and release a minimum of one new SID track during 2011.
Enjoy!
Link to live footage from the competition
People cheering when my name shows up, during live footage from the actual demo competition at X2010 (we came 2nd place).
Link to full demo at YouTube
Link to my SID track as an MP3
Link to We Are New demo at CSDB