Featured at Stockholm VR Meetup #14 20/2
14 Feb

Narrative vs Immersion Through a VR Perspective
"Tomas Danko from Windfall Studios will join and talk about "Narrative vs Immersion Through a VR Perspective. […] A pretty damn amazing line-up! As usual we'll have some food, drinks and demos." – Stockholm Virtual Reality Meetup
Update: You can find a video recording of the presentation here .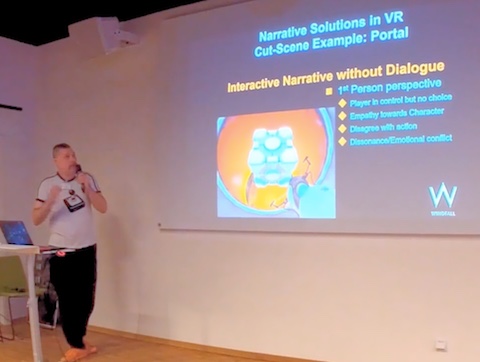 I have been asked to hold a talk at the upcoming Stockholm Virtual Reality Meetup Event #14 in front of the current VR elite in the city. The Meetup group reaches well over 1500 people in the VR industry and each event typically welcomes around 150 guests. You need to book a ticket over at the Meetup site in order to attend, see links below.
The ubiquitous topic of choice for VR Audio would obviously be Binaural Audio.
I will not deliver the obvious.
Instead, you can expect a brief presentation on Narrative through a First Person- and VR Perspective and how this conflicts with perceived Immersion which is the main feature when it comes to VR. Additional keywords I will touch upon are Environmental Storytelling, why traditional Narrative Methods do not work in VR and more.
There might be one or several squeaky plastic toy dinosaurs as well.
Date:
2018-02-20 @ 18:00 – 21:00
Address:
Sweco
Gjörwellsgatan 22
112 60 Stockholm
See you there!


World Apart Demo Station
We at
Windfall Studios
will also provide a demo station for all guests to try out the
Early Release
of our VR game title
World Apart
where you can hear exactly what it sounds like when I record and implement mundane things such as duct tape rolls, whiteboard markers, grenade launchers and squeaky plastic toy dinosaurs.
Link to video recording of presentation
Link to VR Event at Meetup
Link to Stockholm Virtual Reality Meetup Webpage
Link to Meetup Webpage
Link to Windfall Studios Webpage
Link to World Apart Webpage
Link to World Apart on Steam