8-Bit Boys out on Spotify & Apple Music
25 Feb

The Sound of SceneSat, Vol. 5
"8-Bit Boys. We make the hits. We'll make you party like it's 1986." –

SAM

, 8-Bit Boys
To celebrate the ten year anniversary of SceneSat Radio they have released their fifth compilation album, The Sound of SceneSat, Vol. 5 . I am featured with a track, Danko – 8-Bit Boys .
It is an honor to find myself among such great musicians, not to mention legends such as Jogeir Liljedahl, Mark 'TDK' Knight, and Jeroen Tel.
"What if there was a boy band in 1986 consisting of only digitally created virtual band members?"
8-Bit Boys is the answer to that question.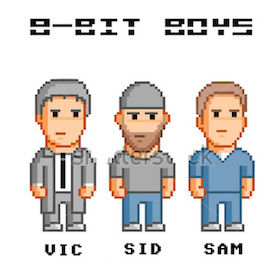 All rap and vocals were rendered using speech synthesis software from the 80's (rap by [SAM Reciter] on the Commodore C64, as an example) and vocoders.
All drum sounds were created from data digitally extracted from the old Roland TR-505, TR-626 and TR-707 drum machines from the 80's that nobody used after that era as opposed to the legendary and ubiquitous TR-909 and TR-808.
FM synthesis as found in the otherwise unloved Yamaha DX7 digital additive synthesizer and of course sounds from the 6581 SID sound chip in the Commodore C64 make up the rest of the sound scape.
Enjoy!
Link to 8-Bit Boys on Spotify
Link to 8-Bit Boys on Apple Music
Link to The Sound of SceneSat, Vol. 5 on Spotify
Link to The Sound of SceneSat, Vol. 5 on iTunes
Link to The Sound of SceneSat, Vol. 5 on Bandcamp
Link to SceneSat Radio