Zeitgeist Album Now Available on iTunes and Spotify
01 Feb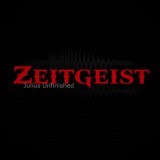 Julius Unfinished
"So let's command our legions to walk across the river, and the omens of the Gods will make our enemies quiver." – Julius Caesar (paraphrased)

I started out producing this electronic industrial dance music album seven years ago. The entire album revolves around Julius Caesar and his Legion XIII (aka The Gemini Legion) who did the forbidden thing when crossing the Rubicon to overtake Rome.
Somewhere along the line it never got finished all thanks to working every awaken hour making audio for video games. The album was made by Kenneth "Slaygon" Mutka and myself, we are both featured on vocals as well. The decision was made to release it "as-is", hence the title.
Zeitgeist – Julius Unfinished
Enjoy!