06 Apr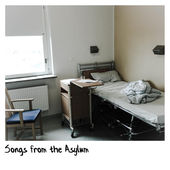 KeX3 – Songs from the Asylum
"Last autumn I was about to end my life, but I was caught by the police. As a result of that, I was incarcerated in an asylum for several weeks. This album is the output of the creative avalanche that crashed upon me." – KeX3
Electronic Music artist
KeX3
have released an album featuring
twenty very eclectic tracks
. The reason for this was that he in fact composed the entire album while being
locked up in an asylum
. I visited this very sterile environment and he had spent some of the idle time dabbling about with music on his laptop. I approached him with the suggestion to make it into a full length album and that I could help out.
This came to be one of the most interesting and rewarding music projects that I have experienced, but above all. Out of this collaboration came to be one of the most beautiful and meaningful friendships that I have and cherish.
I am credited for producing, mixing and mastering the album.
Enjoy!
Link to Songs from the Asylum Album on Spotify
Link to Songs from the Asylum Album on iTunes/Apple Music
Link to Songs from the Asylum Website
Link to KeX3 Page on Facebook