Fairlight Redefinition C64 Demo Awarded at Revision 2014
20 Apr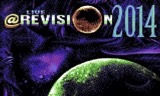 Fairlight – When Dreams Come True
"This is the best C64 music I've heard. A serious ear-worm too.. Had to come back for a second view after the tune followed me around all day. Gotta search around for more from Danko." – Kevin Loughin

Fairlight and Offence released a Commodore C64 demo at the annual hacker event Revision in Germany. It competed against all old platforms and we came third. I was credited for all the music in the demo.
As usual I composed the track using vintage software, Jens-Christian Huus' NP Editor and Newplayer 20.G4 on a Commodore C64C with the 8580 SID audio chip.
We are still alive and kicking on the C64 demo scene.
Enjoy!
Link to Demo on YouTube
Link to Demo on CSDB
Link to Revision 2014 Competition Results