Featured on The Sound of SceneSat, Vol.6 Out Now
07 Oct
The Sound of SceneSat, Vol. 6
"The 6th volume in the popular The Sound of SceneSat compilation series is out now, featuring such well-known musicians of the scene as Dafunk, D4XX, Danko, Jeroen Tel, LMan, BeeZerk, Jogeir Liljedahl, and many-many others on a total of 73 (!) tracks that will sure to keep your ears busy for a while." – Remix 64

Web Radio phenomena SceneSat Radio have released their sixth compilation album in their iconic series, The Sound of SceneSat, Vol.6 . The list of featured musicians reads like a who's who, including legends such as Chris Hülsbeck, Jeroen Tel, Jogeir Liljedahl and Turbo Knight.
The album is out now on Spotify, Apple Music and YouTube.
I am featured on two tracks.
Danko – Den Sista Ninjan 2 Går På Disco (feat. Maskinpop)
Den Sista Ninjan 2 Går På Disco is a collaboration with Maskinpop based on his original Amiga MOD that won the music competition at Edison . The lyrics and certain elements are based on the Narrative from the much beloved C64 video game Last Ninja 2 .
Teo & Danko – Neon Prime Westfalen
Neon Prime Westfalen
is another collaboration with
Teo/Rebels
. We've been talking about for a while about making music together and suddenly this
Retrowave
track appeared out of nowhere.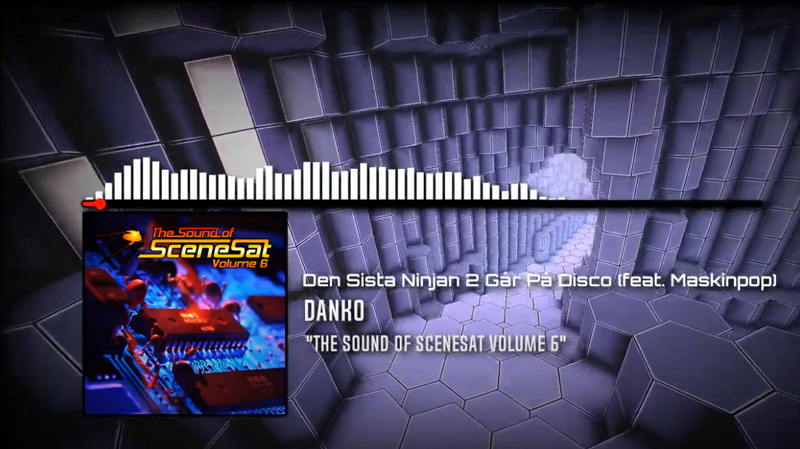 In addition to this, I also mastered Teo – Red October .
Enjoy!
Link to Den Sista Ninjan 2 Går På Disco (feat. Maskinpop) on YouTube
Link to Teo & Danko – Neon Prime Westfalen on YouTube
Link to The Sound of SceneSat, Vol.6 on Spotify
Link to The Sound of SceneSat, Vol.6 on Apple Music
Link to The Sound of SceneSat, Vol.6 on YouTube
Link to The Sound of SceneSat, Vol.6 Announcement at Remix64
Link to SceneSat Radio