Encore64 Album Available as Digital Download
01 Feb
Legendary C64
SID

Music. Made in the past by Legends. Brought into the present by Legends.
"Eclectic. Diverse. Fresh. Different. These are the words that came to my mind right away when listening to this album. The mix of styles is eclectic, the list of source material remixed on this album is diverse, the approach of each remixer was fresh, and it all results in an album that is decidedly different." – LaLa, Review on Remix64.com

Encore64 is a project I have been working on for most of my free time during all of 2021. On the 26th of January it was finally released into the wild. You can purchase your Digital Download copy and some ultra swanky T-Shirts over at Encore64.com .
It is a full length album featuring modern remixes of old Commodore C64 SID music. The album art, T-shirts, website and advertising material was designed by none other than The Sarge/Fairlight . Yes. THE The Sarge. One of the best C64 graphic artists of all time.
Legends Collaborate
The group of musicians on the album consist of some of the most
legendary C64 music composers
from back in the days, including
Fred Gray
and
Peter Clarke
from
Ocean Software
. In addition to that, veteran
C64 remixers
topping all the charts the past decade such as Musician Extraordinaire
Glyn R Brown
, veteran remixer and
#1 C64

SID

musician in Hungary
Vincenzo
and #1 newcomer
Tomsk
.
Romeo Knight
who arguably made
the best Amiga

MOD

song in history
is featured. And then there's myself.
Moving Forward
Instead of remixing the same C64
SID
songs everybody already remixed for 20+ years in the thousands, we opted for less known songs (except for some of the ubiquitous ultra famous original songs by Fred and Peter such as
Mutants, Shadowfire, Bubble Bobble
and
Ocean Tape Loader

III
, that is) as well as more non-game tracks instead pulled from the vast catalogue of the
C64 demo scene
.
As a consequence, Encore64 is moving forward in time shifting focus from 1980s video game music to the Demo Scene .
I have a hard time finding any other C64 remix album ever released meeting the production quality of Encore64 across the entire track list. Having been offered the opportunity to work with all these amazing musicians, mixing some of their tracks, mastering the entire album…
Humbled.
Star-struck.
Flabbergasted.
It's been a helluva ride, and I hope you will enjoy the album because this is some truly world class music.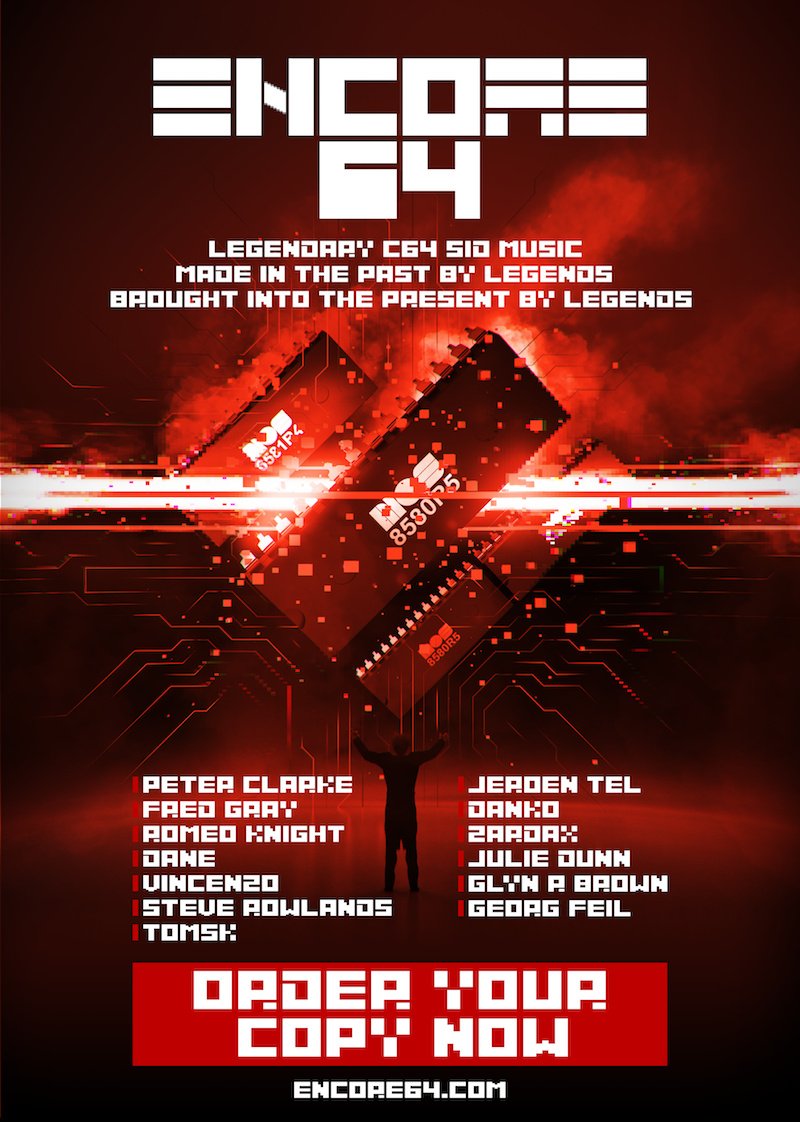 Encore64 raised the bar for the entire C64 Remix Community.
I am so thankful to have been a part of it.
I am credited for making three tracks, original composer of two tracks, mixing a total of seven tracks as well as mastering the entire album. Music production aside, I acted as producer for the entire project, along with Peter Clarke who also had a major part in realisation of Encore64.
If you haven't already decided by now to buy our album , I recommend reading the in-depth and very well written review by none other than C64 Remix Professor LaLa over at Remix 64 .
Online Live Interviews
In addition to that, we were interviewed on Online Radio- and Pod Shows such as
SlayRadio
,
The Retro Hour
and
BozRadio
. How about that.
Enjoy!
Encore64 Webstore
Encore64 Facebook Page
Encore64 Album Review by LaLa on Remix 64
Encore64 Album Rated on Remix 64
Interview with Peter Clarke and Myself on SlayRadio
Interview with Peter Clarke on The Retro Hour
Release Event on BozRadio
Encore64 Original C64 SIDs on DeepSID