Cassino vs Danko - The Return
10 May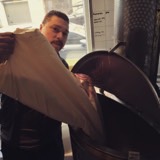 India Pale Ale With a Belgian Twist
"Cloudy pale orange, creamy gead. Rich aroma of elderflower, citrus and marmelade. Mid dry with soft mouthfeel and solid body. Tropical fruits, the slightest hint of marzipan and grass. Lovely malt depth and rich, seemless flavours, where hops and yeast induced flavours come together perfectly. Mid bitter finish. A real winner!" – omhper @ RateBeer

Years ago I brewed a couple of times at Monk's Café Brewpub in Stockholm together with Head Brewer Charles Cassino. After I came back from Belgium, having worked there brewing beer at De Struise Brouwers, I was asked to do a couple of collaboration brews once again. We made two beers together.
Monks Cassino vs Danko DIPA, a Belgian Double IPA at 8.2% abv.
Monks Cassino vs Danko Belgo IPA, a Belgian IPA at 7% abv.
They were sold under various names, hence the multiple links per below.
Link to Monks Cassino vs Danko Belgo IPA on RateBeer
Link to Monks Cassino vs Danko Belgo IPA on Untappd
Link to Monks Danko Loves Us! on Untappd
Link to Monks Cassino vs Danko DIPA on RateBeer
Link to Monks Cassino vs Danko DIPA on Untappd