1st Place in Oldschool 2nd Place in Newschool Music Competition at Edison 2014
27 Jun

We are 8-bit Veterans
"Initial very boring but it's growing and growing by time. the simplicity makes it good and yes it's quite old school!" – Celtic Design/Genesis Project
For the second year I competed with music at the Edison hacker event in Stockholm and for the second time I won. This time I even won two awards.
1st Place in Oldschool Music Competition
All formats competed against each other in the Old School Competition (i.e. Amiga modules, C64
SID
, PC FastTracker etc, Gameboy and other chip tune platforms).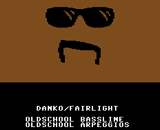 The track is called Oldschool Bassline and it won the oldschool music competition held 27th of June at Edison 2014 in Stockholm.
I used a version of Jens-Christian Huus' New Player (20.G4) and Editor (3.04), running on an original Commodore C64 computer equipped with the 8580 SID sound chip.
2nd Place in Newschool Music Competition
I came second with my remix of
Trans-X – Living On Video
Enjoy!
Link to Oldschool Bassline MP3
Link to Oldschool Bassline SID on CSDB
Link to Living On Video Remix MP3
Link to Edison 2014 on CSDB
Link to Edison website