Featured in Generation 64 - International Edition
04 Mar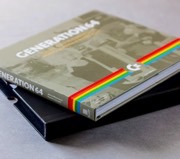 How the Commodore Inspired a Generation of Swedish Gamers
"Tomas Danko is one of the most famous musicians within the demo scene." – Jimmy Wilhelmsson
Ah you think Commodore C64 is your ally? You merely adopted the Commodore C64. I was born in it, molded by it.
Most people who know me also know that I grew up making music, demos and code on the legendary Commodore C64 home computer. As a matter of fact I am still highly active on the C64 scene making music for Fairlight demos and competing at hacker parties and events.
This book, Generation 64, is in my opinion the most significant work in the matter, i.e. covering the history of what started as a nerd hobby several decades ago and from where today's huge industry of video games and multi media art first originated. It all started with the C64. For me, and for an entire successful generation.
I am deeply humbled to have been given four pages in this incredibly well written and great looking book. My chapter in the book basically covers my entire childhood and onwards. The rest of the book covers everything and everybody else.
Buy the book, you will love it.