Brewmaster & Head of Development at Monk's Café & Brewery
07 Mar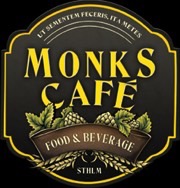 Beyond Mere Collaboration
"Ölkrogkedjan Monks café firar 10 år och man kan väl lugnt säga att de inte vilar på lagrarna, det kommer hända rejält med grejer under 2016 … Bryggaren Tomas Danko har engagerats som huvudbryggare på Monks eget bryggeri på Wallingatan och kommer hålla i bryggningar och bryggkurser under året. " – Joel Linderoth, Expressen

The last two years or so I've had had the fantastic opportunity to build a brand new and great brewery from the ground up together with some mighty fine people at CAP Brewery. I will always be grateful to have been part of that, it was an amazing time to learn just about everything that goes on inside and outside of a proper brewery. I will always be a CAP fan at heart and consider those colleagues dear friends of mine.
New times calls for a new position, however. Now that I have recently become father to a son, the demanding role as Managing Director for a company is a bit much to balance against parenthood.
I have accepted the positions as Brewmaster and Head of Development at Monk's Café & Brewery situated in Stockholm just a few minutes stroll from the Central Station. I will be brewing beer at the local brewpub but also develop several affiliated breweries around and outside of Stockholm as well as having the pleasure of brewing at those as well. There are other beer related ventures in addition within the company that I will spearhead in development.
Over the years I have had the pleasure to guest brew my own beer about seven times at Monk's Café so we have a history together. Last year we did a collaboration brew between Monk's Café & CAP Brewery at Monk's Café for their seven year anniversary, for instance.
Another reason is that my new job will allow me to simultaneously develop other projects for the future. To be continued…
2015 Monk's Café &
CAP

Brewery Collaboration Brew with new colleague and Brewmaster Charles Cassino

Link to Monk's Café
Link to Monk's Café on Facebook
Link to Monk's Café on Twitter
Link to Monk's Café on RateBeer
Link to Monk's Café on Untappd