We Are Amiga Now Available on iTunes, Apple Music & Spotify
23 Jul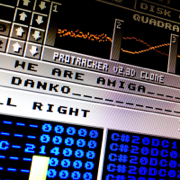 Keep the Scene Alive
"Classic!" "Legend!" "Beyond Perfection. Defining Piece." – Various comments on Complications at Scenemusic.net

This 14 track album release is a fun mix of new and old but with a common theme holding everything together.
My latest track We Are Amiga won the Newschool Streaming Music Competition at Edison 2016, and the heavily collaborative remix We Are Collaboration came in third. Together with ALPAidUS and Fegolhuzz I won 1st and 2nd prize in the Oldschool Music Competition as well.
For good measure the other permutations on We Are Amiga used in the Fairlight PC Demo which won 1st prize at Edison as well as We Are Shitfaced that came in 2nd in the Wild Competition are also featured.
All these tracks are included in the album .
Complications
This
Amiga ProTracker

MOD

ule
that I made as a kid in 1990 turned out to become the probably most spread
Amiga
song on the planet for whatever reason. Now you can finally include the original in your
Spotify
and
iTunes
playlists.
The Commodore C64 version I made later on is also featured.
Additional tracks on the album are Complications II (Amiga MODule), Complications 97 (Starchild Remix) and acapella Computer Generated Speech from the title track. I would enjoy anyone else to use those speech samples in their own remixes, demos and productions. Keep paying it forward. Keep the scene alive.
Enjoy!
Link to We Are Amiga on iTunes
Link to We Are Amiga on Spotify